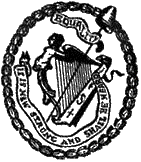 Irish Convicts to NSW 1788 - 1849
This database contains details of Irish convicts who were transported to New South Wales in the period 1788 - 1849.
The database contains:
Irish State prisoners,
convicts who were tried in Ireland,
convicts who were tried outside Ireland whose native place was in Ireland,
Irish military men who were tried inside or outside Ireland whose native place was in Ireland, and
a few non-Irish convicts arriving on Irish convict transport ships.
While every effort was made to correctly transcribe the Shipping Indents, not all Indents showed the native place of their respective convicts.
Database Primary Sources
State Records NSW for Convict Shipping Bound Indents
State Records NSW: Guide to New South Wales Archives relating to Convict and Convict Administration No 4 March 2006
Charles Bateson: The Convict Ships 1959
Dr Anne-Maree Whitaker: Unfinished Revolution 1994
Kieran Sheedy: Upon the Mercy of Government 1988
Kieran Sheedy: Tellicherry Five 1997
Angela Young: Ripe for Harvest 1980
Yvonne Browning: St. Peters Richmond: The Early People and Burials 1990
Hawkesbury Family History Group: The Hawkesbury Pioneer Register 1994
Hawkesbury Family History Group: The Hawkesbury Pioneer Register Volume 2 2001
Reg Wright: If All Else Fails ... Descent, Sep 1986
Reg Wright: Friendship (2) Revisited Descent, Sep 1988
Alfred James: The Voyage to Sydney of the 'Minerva' in 1799/1800
Ruán O'Donnell: Insurgent Wicklow 1798 1998
Ruán O'Donnell: Rebellion in Wicklow 1798 1998
Ruán O'Donnell: Robert Emmet and the Rising of 1803 2003
National Archives of Ireland: Rebellion Papers (1796-1808)
National Archives of Ireland: Ireland-Australia Transportation Records Database 1791-1868
Lynette Ramsay Silver: The Battle of Vinegar Hill 1989
Dr C.J. Smee & Mrs J. Selkirk Provis: Pioneer Register Vols I & II
Perry McIntyre: Convict Pardons, Tickets of Leave NSW 1810-1875 Index
Index to the Townlands and Towns, Parishes and Baronies of Ireland 1851
Ordnance Survey Road Atlas of Ireland 1985 Edition
Bob Reece: The Origins of Irish Convict Transportation to New South Wales 2001
Con Costello: Botany Bay The Story of the Convicts Transported from Ireland to Australia 1791-1853 1987
George Rudé: Protest & Punishment 1978
Barbara Hall: A Desperate Set of Villains: Convicts of the Marquis Cornwallis Ireland to Botany Bay 1796 2000
Barbara Hall: Death or Liberty: Convicts of the Britannia Ireland to Botany Bay 1797 2006
Barbara Hall: The Irish Vanguard: Convicts of the Queen, Ireland to Botany Bay 1791 2009
Parramatta & District Historical Society: Parramatta Pioneer Register 2000
Liverpool & District Family History Society: Pioneers of Liverpool 2001
Camden Area Family History Society: Camden Pioneer Register 1800-1920 2001
Secondary Sources
Secondary sources are listed separately
Acknowledgements
I am indebted to my wife, Tricia, and my late father, Fred (1917-2005), for their constant help in searching various records for the last dozen years.
Thanks to Patricia Downes for programming the database and coding the site.